---
Empowering Caregivers and Families Affected by Dementia
Navigating the Path of Dementia Care with Compassion & Support
---
Caring for Caregivers
At Alzheimer's Arkansas, we stand as a pillar of support for the unsung heroes—family caregivers—whose lives are intricately woven with the challenges of Alzheimer's disease and other forms of dementia. Our unwavering commitment is to uplift and guide these caregivers on their journey, providing not just resources but also empathy and understanding. Every step of this path is eased with the comprehensive range of programs, services, and financial assistance we offer, serving the entire state of Arkansas.
Our Team
---
---
---
Executive Board of Directors
Heather Savage, Chairman
Melissa Longing, Vice-Chairman
Debbie Rawn, Secretary
Ken Compton, Treasurer
Board of Directors
Pamela Avaltroni
John Borchert
Joe Childers
Kim Clatworthy
Holly Fish
Sharon Heflin

Melissa Longing
Julie C. Robbins
Tom Scott
Vivian Trickey Smith
Amber Tierney
Wendy Wood

Our CARE Partners
Our CARE partners are businesses or individuals that have donated or are providing the in-kind equivalent of $5,000 or more in 2023 and wish to be acknowledged. They are helping us CARE for caregivers across the entire state. Special thanks to our 2023 CARE partners:
Alzheimer's Association
Arkansas Caregiver Resource Guide
Arkansas Department of Human Services
Arkansas Federal Credit Union
ASAP Asset Management
CareLink
Compton Family in Memory of Dr. Norma Compton
Dave Creek Media
Faulkner County Walk Committee
H2GO
Home Instead
Hospice Home Care
JoeBear Apparel
Ken Compton
Legacy Termite & Pest Control
Melissa Longing
MHP / Team SI
Pinnacle IT (formerly Computer Hut)
Riggs Cat
Various Foundation Funds
Visiting Angels – Conway / Hot Springs
Interested in helping us CARE for caregivers? Become a CARE partner today!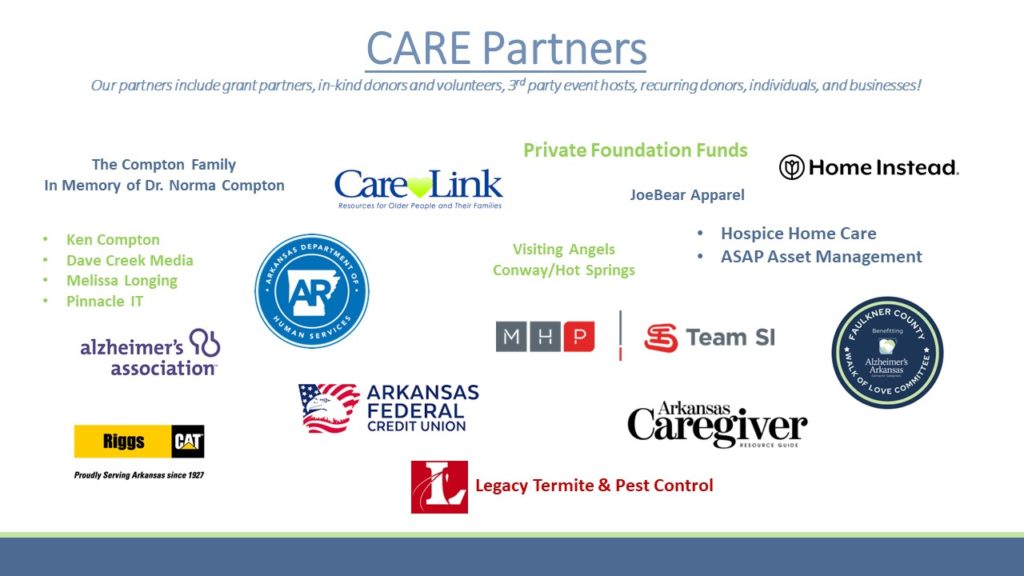 ---
Ready to Make a Difference? Your Journey of Support Begins Now.
Step onto a path of support, understanding, and empowerment. Join Alzheimer's Arkansas in the journey to uplift caregivers, transform lives, and advocate for change. Together, we can make a difference.
Reach Out to Us Today.
Address:
201 Markham Center Drive
Little Rock, AR 72205
Hours: Monday – Friday 8:30am – 4:30pm
Email: [email protected]
Phone: 501-224-0021
Fax: 501-227-6303